Confidence intervals are one of the most misunderstood and misused concepts in all of statistics. I recently had a conversation about confidence intervals that bugged me greatly because A. I was only 70% sure my intuition was correct, and B. I couldn't explain my intuition in a coherent, convincing way.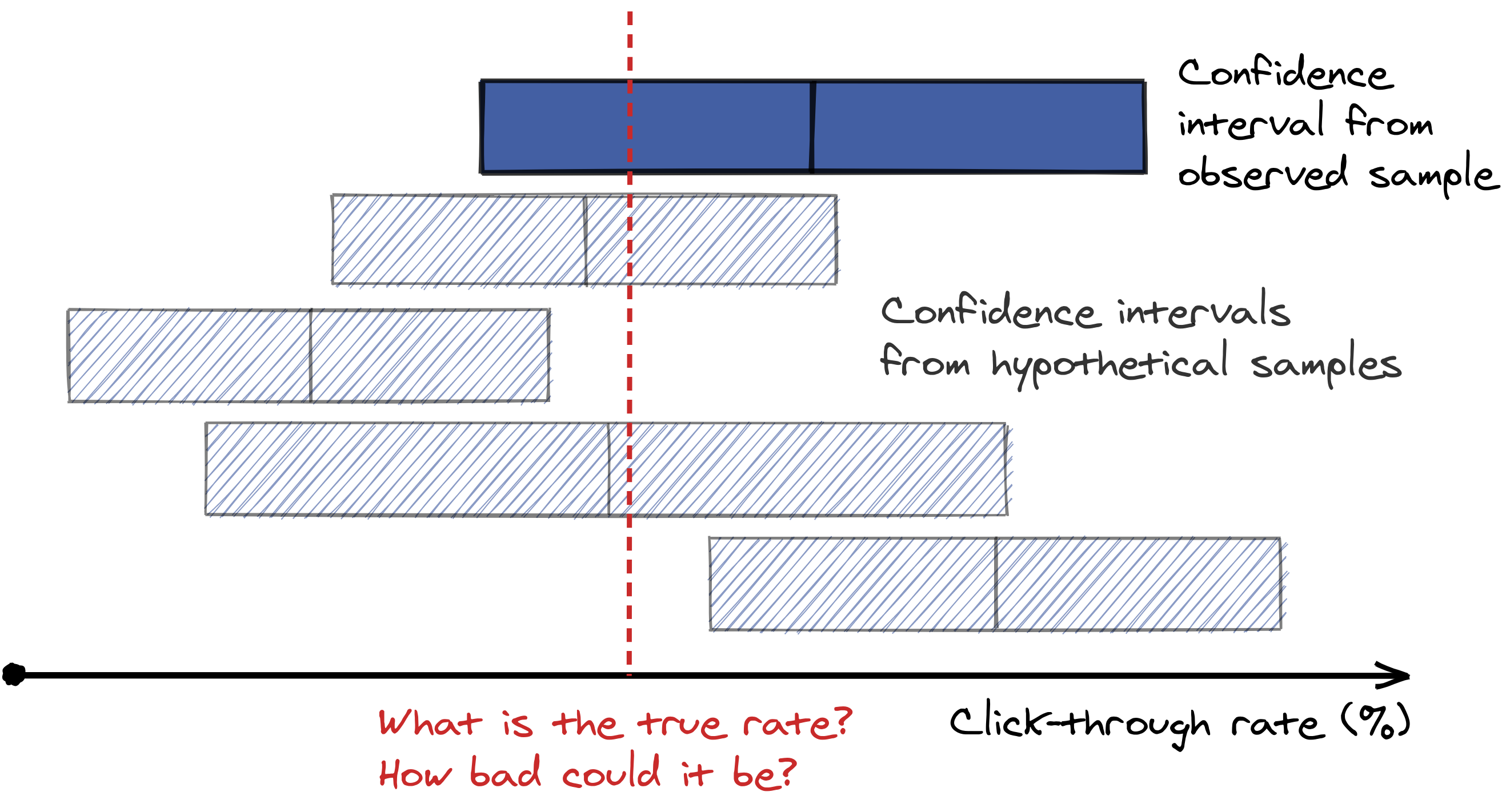 Here's the (fictionalized) scenario: a staged rollout of a new website feature. We plan to show the new feature to 10% of our users and measure the click-through rate (CTR).1 The VP in charge says we'll make a decision based on the worst-case scenario; we'll launch to everybody as long as the experiment result isn't catastrophically bad. We run the test and the point estimate from our sample is a CTR of 7.3%, with a 95% confidence interval of [6.8%, 7.8%]. Now it's decision time; the conversation goes something like this:
(J)unior Data Scientist: Can we consider 6.8% the worst-case scenario for the true CTR?

(S)enior Data Scientist: No, I don't think so. The confidence interval definition doesn't let us make probabilistic statements about a parameter.

J: Right, but that's not what I'm saying. The definition says that if we were to repeat this experiment 100 times, 95 of the runs on average would produce a confidence interval that covers the parameter. So that means that our particular interval has a 95% chance of being correct, i.e. containing the parameter. And that implies there's only a 2.5% probability the parameter is less than 6.8%.

S: Hmm, that's an interesting way to put it, but…my statistical spidey-sense is tingling; it doesn't feel right. I'm afraid I can't explain exactly why, though.

J: What does the confidence interval even mean then? What's the point if not to give an intuition about the best and worst probable outcomes?

S: That's a great question. Come to think of it, I'm not sure what the purpose is of a specific, realized confidence interval after the fact. Why don't we try a Bayesian approach that will give us the interpretation we want?

J: Because I don't know Bayesian statistics, and it feels reasonable to use the confidence interval for this purpose, and you haven't convinced me that I'm wrong. I'm going for it.

S: Sigh…2
Our common-sense intuition about confidence intervals has a way of overwhelming the facts. As our fictional Junior Data Scientist says, what's the point of a confidence interval, if not to give worst and best case bounds? How can it be that 95% of confidence intervals cover the true parameter, but our specific interval doesn't have 95% probability of containing the parameter?